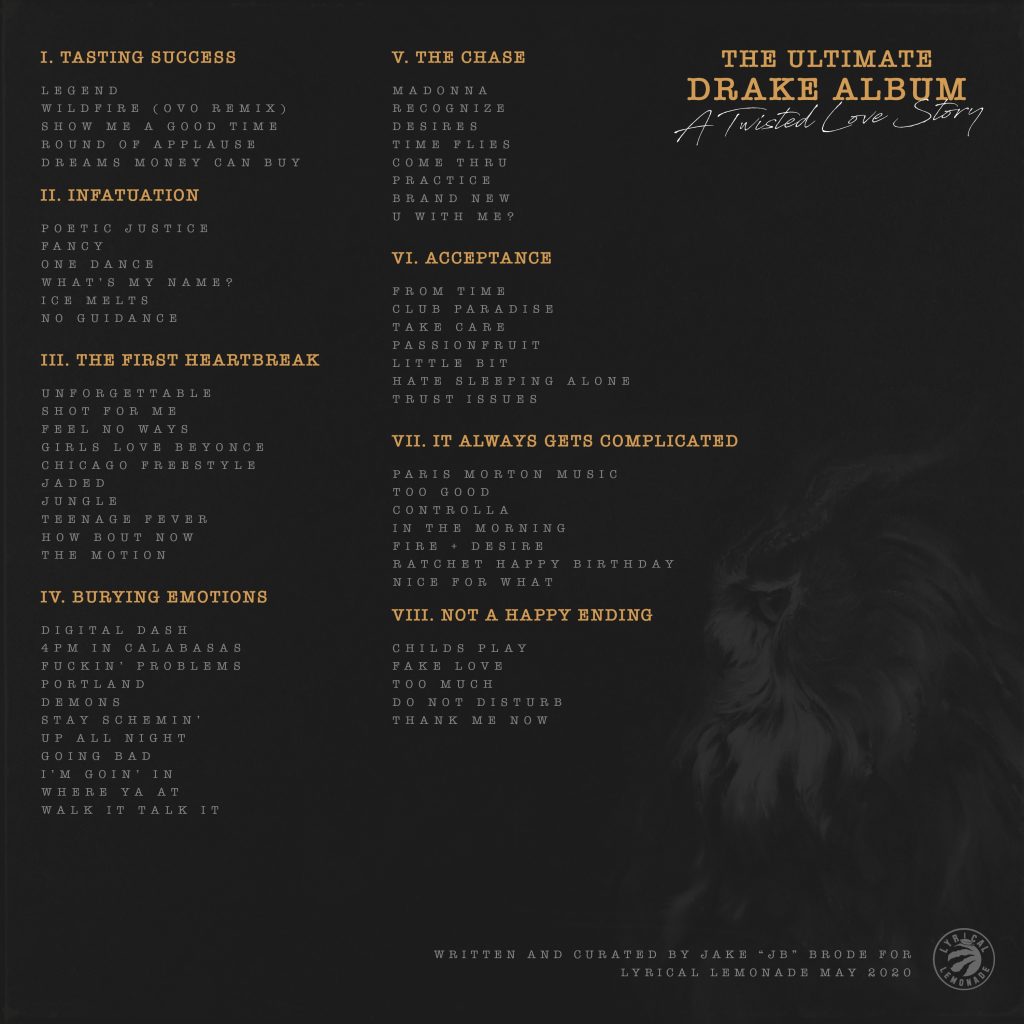 FOREWORD
In the history of the hip-hop industry, there has never been a more dominant artist than Aubrey "Drake" Graham. The 33 year-old superstar has undergone several re-inventions over the years, much to the delight of his ever-growing fanbase. As much as we have seen him progress, however, the substance in his music carries one glaring constant – heartbreak. It's no secret that Drake is the master of the introspective love song, and as much as it probably pains him to have to go through experiences that inspire these records, the music has continued to serve as salvation for distraught fans everywhere. 
At this point, we owe Drake for giving us all this incredible music at the expense of his own emotional distress. My first thought in paying homage was to curate a carefully-selected 100-song playlist of all his best music. Quickly, I realized that: 1) it's an impossibly subjective task to narrow down his 100 "best" records, and 2) a playlist that deep is sure to oversaturate the respect we're trying to pay in this instance. So I took a different approach. I thought to myself, 'what would Drake appreciate the most from the perspective of a long-time fan? How can we show him how much we appreciate being able to lean on his music in times of emotional hardship?' 
The answer is simple: show him that HE can relate to US. Rather than throwing together a list of his Billboard chart-toppers, I created a love-story narrative using a carefully-selected pool of Drake classics. I wanted to put real thought into crafting a perfectly sequenced "super-album." The track list is as equally important as the story itself – being conscious of the sonic flow of an album is an art form, and it's important that it's acknowledged here. By using his records to tell the story, Drake's musical vulnerability can be validated. All humans, even ones of the utmost superstar status, deserve to have their pain be acknowledged. Admittedly, my motivation for this was partially a personal agenda, with parts of this story being inspired by recent hardships of my own. But overall, my hope is that this serves as appropriate flowers to an artist that has sacrificed years of emotion for our listening pleasure. 
A few notes before you dive in; my criteria for songs to be included was simple. If the song exists on a Drake project, it was eligible. If it's a song that features a verse from Drake, it was eligible. Are there some club bangers on here? Yes, but only ones that fit the narrative of the love story. If you are looking for "Sicko Mode" or "God's Plan," this is not the playlist for you. Each song on the the list is categorized into different sections of the story, as explained in the forthcoming narrative. The link to the playlist is below, so you may choose to listen along as you read the story, or consume both pieces separately:
Without further ado, I present A Twisted Love Story: The Ultimate Drake Album 
Apple Music: The Ultimate Drake Album
Spotify*: The Ultimate Drake Album
*due to a lack of an official version on the platform, the Spotify version replaces 'Hate Sleeping Alone' with 'Marvins Room.'
Pt. 1: TASTING SUCCESS
Legend [Drake, If You're Reading This It's Too Late, 2015.]
Wildfire (OVO Remix) [SBTRKT ft. Drake, Single, 2011.]
Show Me a Good Time [Drake, Thank me Later, 2010.]
Round of Applause [Waka Flocka Flame ft. Drake, Single, 2011.]
Dreams Money Can Buy [Drake, Single/Care Package Re-Release, 2011/2019.]
The story begins with a young, confident, carefree Aubrey, soaking in the fruits of his labor and reflecting them in sharp, aggressive raps. Recognizing his stature in the hip-hop hierarchy on "Legend," our protagonist is floating through a fast-paced lifestyle of glitz, glamour and girls. Unbeknownst to him, Drake is teetering on the edge of self-control, a moment that is best described on "Show Me a Good Time," boasting, 'I live for the nights that I can't remember, with the people that I won't forget.' 
Turning Point:
Poetic Justice [Kendrick Lamar ft. Drake, good kid, m.A.A.d city, 2011.]
Drake is realizing that the fast life gets old quickly. An intervention with his newfound friend Kendrick Lamar proves a major point to the previously oblivious Aubrey – that he cannot let his newfound fame blind him from his real-life priorities. In the moment, it's easy to forget that all humans need love, and Drake is no exception. On "Poetic Justice," we hear him yearn for a real connection with a wholesome partner, one that reminds him of the simplistic beauty of home. He is now back in touch with his emotions and embarks on a reckless mission to find love. 
Pt. 2: INFATUATION
Fancy [Drake ft. T.I. & Swizz Beatz, Thank me Later, 2010.]
One Dance [Drake ft. WizKid & Kyla, Views, 2016.]
What's My Name? [Rihanna ft. Drake, Loud, 2010.]
Ice Melts [Drake ft. Young Thug, More Life, 2017.]
No Guidance [Chris Brown ft. Drake, Indigo, 2019.]
Drake meets girl. She's young, exciting, and keeps him on his toes, unlike the clout-chasing women he's been surrounded by on his rise to stardom. She's so refreshing to him that he puts his blinders on to anything that would distract him from spilling his emotions out to her. Young love can be dangerous and misleading in these moments, but right now that is none of Drake's concern. He's completely submerged in a pool of infatuation, falling for every detail of his newfound love interest. This is best described on "Fancy," as he raps, 'they say time is money, but we'll spend it together, I'm down for whatever, you just lead the way, we go to dinner you don't even look at me to pay.'
Turning Point:
Unforgettable [Drake ft. Young Jeezy, Thank me Later, 2010.]
Shot for Me [Drake, Take Care, 2011.]
As outdated as a Young Jeezy-assisted track seems in 2020, "Unforgettable" is a perfect representation for the second turning point in our journey. As you might've expected, the infatuation didn't last long, as the girl quickly realizes that Drake's lifestyle is too overwhelming for her to handle. She's an ambitious college student, working to find her own way in life, and the insecurities of standing next to someone who's so sure of their path outweighed the love that she had for young Aubrey. At first, Drake is confident in his ability to handle the separation. On "Shot For Me," he masks his feelings with false bravado, gassing himself up in an effort to ignore his own mistakes. But just as the infatuation was short-lived, so was his confidence. 
Pt. 3: THE FIRST HEARTBREAK
Feel No Ways [Drake, Views, 2016.]
Girls Love Beyonce [Drake ft. James Fauntleroy, Single/Care Package Re-Release, 2013/2019.]
Chicago Freestyle [Drake ft. Giveon, Dark Lane Demo Tapes, 2020.]
Jaded [Drake, Scorpion, 2018.]
Jungle [Drake, If You're Reading This It's Too Late, 2015.]
Teenage Fever [Drake, More Life, 2017.]
How Bout Now [Drake, Single/Care Package Re-Release, 2014/2019.]
Crash and burn. Drake is failing to cope with the gut-wrenching after effects of the break-up, and begins to struggle balancing his healing process with his career. This being his first heartbreak since he touched fame, he is lacking self-awareness and has taken a spiteful approach to his healing process. This is the Drake that we have all come to love, as many of the emotions he  touches on in this moment are ones that we have all experienced, further proving that the relatability in these records come at the expense of Drake's emotions. Months are turning into years as Aubrey is sulking in heartbreak, reminiscing on the good times and blaming the girl for not being able to adjust to the fast life. "Jaded" is the perfect representation of where he is at in this moment, as he croons, 'yes I'm hurting, yes I'm jaded, most of these things I don't wanna say, I wanna be around while you chasin', you wanna hit me up when you make it.' 
Turning Point:
The Motion [Drake, Single/Care Package Re-Release, 2013/2019.]
Drake has finally stopped feeling sorry for himself and is desperate to pull himself out of this sinkhole of heartache and hardship. On "The Motion," he buries whatever emotions he has left for the girl that broke his heart and charges them to the game, figuring that the best way to move on is to act like it never affected him in the first place. 
Pt. 4: BURYING EMOTIONS
Digital Dash [Drake & Future, What A Time To Be Alive, 2015.]
4 PM in Calabasas [Drake, Single/Care Package Re-Release, 2016/2019.]
Fuckin' Problems [A$AP Rocky ft. Drake, 2 Chainz & Kendrick Lamar, LONG.LIVE.A$AP, 2013.]
Portland [Drake ft. Travis Scott & Quavo, More Life, 2017.]
Demons [Drake ft. Fivio Foreign & Sosa Geek, Dark Lane Demo Tapes, 2020.]
Stay Schemin' [Rick Ross ft. Drake & French Montana, Rich Forever Mixtape, 2012.]
Up All Night [Drake ft. Nicki Minaj, Thank me Later, 2010.]
Going Bad [Meek Mill ft. Drake, Championships, 2018.]
I'm Goin In' [Drake ft. Lil Wayne & Young Jeezy, Single, 2009.]
Where Ya At [Future ft. Drake, DS2, 2015.]
Walk It Talk it [Migos ft. Drake, Culture II, 2018.]
As he delves deeper into his newfound outlook, Drake turns to the one thing that he can truly find salvation in – his craft. Drowning himself in work, he becomes a studio junkie, inviting all of his favorite collaborators to join him in a militant-style regime of hit-making. The one rule in the studio? Do not talk about love. From this comes some of Drake's sharpest, most confident work, linking up with Migos, Future, Nicki Minaj, and countless others to churn out smash-hit after smash-hit that all reek of misogyny. At this point, it's become an obsessive distraction, and it feels right because he's getting an astronomical return on his investment via the Billboard charts. This phase is best encapsulated on "Where Ya At," as he admits, 'man I ain't got no choice, 'cuz nowadays I swear this shit has changed up for the boy, I'm self-made, selfish with my women, self-employed.'
Turning Point:
Madonna [Drake, If You're Reading This It's Too Late, 2015.]
Drake is coming to terms with the fact that burying his emotions is only a temporary solution. Realizing that his mind and his heart are not parallel, he is struggling to find a point of mental consistency. "Madonna" is a dark, drunken representation of where his head is at. Fed up with the whirlwind of emotions he is dealing with, he hastily decides to try and win back his first love, not accounting for the fact that she may not feel the same way, and still failing to take accountability for the fallout. 
Pt. 5: THE CHASE
Recognize [PARTYNEXTDOOR ft. Drake, PARTYNEXTXDOOR TWO, 2014.]
Desires [Drake ft. Future, Dark Lane Demo Tapes, 2020.]
Time Flies [Drake, Dark Lane Demo Tapes, 2020.]
Come Thru [Drake, Nothing Was the Same (Deluxe), 2013.]
Practice [Drake, Take Care, 2011.]
Brand New [Drake, So Far Gone EP, 2009.]
U With Me? [Drake, Views, 2016.]
At this point, years have passed since anything wholesome or positive existed within their relationship. The situation has became toxic, as Drake is shooting blind half-court shots from any angle he can imagine. He's lost in his own mind, obsessively checking her social media, putting 2 and 2 together and getting 5 rather than sitting back and letting fate take the wheel. In his eyes, any response he gets from her is welcome, as he's convinced himself that his stature and fame combined with his overbearing efforts will win her over (he is definitely wrong). She buys into this game in spurts, giving him just enough rope to hang himself, and he is taking the bait to the point of utter embarrassment. His false sense of entitlement to her is best exemplified on "Time Flies," as he raps the following in a tone of desperation and haste: 'I feel like I love you too much to change you, you believe in angles more than angels, feel like I been going thru too much to explain to you, but i'm still the same way I was when I came to you.'
Turning Point:
From Time [Drake ft. Jhene Aiko, Nothing Was the Same, 2013.]
Drake's obsessive-compulsive tendencies have gotten him blocked from all paths of communication he had to the girl. Desperate for guidance, he takes a strong look in the mirror and gives a late night call to Jhene Aiko; a former lover turned trusted confidant who he knows will give him straightforward advice. As hard as it is for Jhene to process Drake talking about another woman, she hears him out, and even validates some of his actions, understanding that love can make people do crazy things. She hammers home the point that despite his efforts, the girl he's chasing may have simply lost interest, and might have decided that working on herself needs to be prioritized over rekindling a past relationship. This is the first moment where Drake realizes that he holds some accountability in the matter. He's beginning to understand that no matter how famous he is, he isn't entitled to unlimited chances at the expense of his partner. 
Pt. 6: ACCEPTANCE
Club Paradise [Drake, Single/Care Package Re-Release, 2011/2019.]
Take Care [Drake ft. Rihanna, Take Care, 2011.]
Passionfruit [Drake, More Life, 2017.]
Little Bit [Drake ft. Lykke Li, So Far Gone EP, 2009.]
Hate Sleeping Alone [Drake, Take Care, 2011.]
Our protagonist has finally had a moment of mature clarity. After mulling over Jhene's advice, he's come to understand that up until this point he failed to even acknowledge the girl's perspective. His spiteful actions have made it impossible for him to express these realizations to her, as she's been completely turned off to giving him the time-of-day to speak on it. To add insult to injury, life on the road has put so much distance between the two that even if she was willing to give him another chance, the practical circumstances of life wouldn't allow it. All he can do is take the moral high road and express his feelings through his music. There are still remnants of spite in his lyrics, but hey, no one is perfect. There's no better representation of where his head is at than on "Passionfruit":
'Passionate from miles away, passive with the things you say, passin' up on my old ways, I can't blame you.'
Turning Point:
Trust Issues [Drake, Single/Care Package Re-Release, 2011/2019.]
Time has passed. Feelings have changed. As our protagonist falls back from his chase, the girl is left wondering what could've been, constantly having late night feelings of nostalgia. The energy between them still exists, and they both know it. Slowly, they attempt to rekindle a friendship, but Drake quickly realizes it's nearly impossible for him to have a platonic relationship with her without his old feelings arising. Besides, this is Drake we're talking about, arguably the biggest superstar on the planet. Being "friend-zoned" isn't something his ego will allow, and he puts his walls up knowing there's no way they could ever put trust in each other again.
Pt. 7: IT ALWAYS GETS COMPLICATED
Paris Morton Music [Drake, Single/Care Package Re-Release, 2010/2019.]
Too Good [Drake ft. Rihanna, Views, 2016.]
Controlla [Drake, Views, 2016.]
In The Morning [J. Cole ft. Drake, Cole World: The Sideline Story, 2011.]
Fire & Desire [Drake, Views, 2016.]
Company [Drake ft. Travis Scott, If You're Reading This It's Too Late, 2015.]
Ratchet Happy Birthday [Drake, Scorpion, 2018.]
Ain't that the truth. Just as Drake felt like he'd fully recovered from this long-winded journey of agony, the girl begins to feel the opposite. The two are back on speaking terms; a couple friendly exchanges have made her revisit emotions that she thought were long gone, and she can't avoid the fact that his music is everywhere, and is all about her. The conversations begin to become more flirtatious (represented on "In the Morning"), and she is flattered that he didn't forget to wish her a Ratchet Happy Birthday. Communication seems to have improved. The girl is allowing him a platform to express himself. It's safe to say things have gotten complicated; though neither of them seem to mind. Could there be hope for the young couple? Time will tell. This phase is best described on "Too Good," with Rihanna playing the role of the girl as they exchange the same message to each other:
'I don't know how to talk to you, I don't know how to ask you if you're okay.'
Turning Point:
Nice For What [Drake, Scorpion, 2018.]
Drake has had enough with the back and forth. After years of playing games, pretending to hate each other, and everything in between, he has finally decided to push all of his chips in and shower her with the feelings that he never truly let go of. The tone is positive, as he has learned that arguing with her has never gotten him far. 
Pt. 8: THIS IS NOT A HAPPY ENDING
Childs Play [Drake, Views, 2016.]
Fake Love [Drake, More Life, 2017.]
Too Much [Drake ft. Sampha, Take Care, 2011.]
Do Not Disturb [Drake, More Life, 2017.]
Thank Me Now [Drake, Thank Me Later, 2010.]
In a heartbreaking turn of events, the girl gets cold feet and settles for a frat guy that lives down the street, who would give Kyle Roggers a run for his money in the biggest douche of all time category. Luckily for Aubrey, this journey has helped him build thick skin, and he's okay with accepting the fact that she's simply too immature to ever make this work. However, successful people don't like to have their time wasted, and Drake is sure to let her know that in a string of songs that completely write her off. It's time for Drake to do what he's always done best – focus on the music. He can find love when his reign is over, and it's yet to be determined when that moment will come. His final position is described perfectly on "Thank Me Now":
'I think I had a chance at love but knowing me I missed it, 'cuz me dedicating my time just isn't realistic.'
You win some you lose some. – JB
Special Thanks to: John Norris, Mark Bricker, Elliot Montanez, Lee McIntosh, Alex Migenes, Victoria Orbe, Brandon Carter, & Devon Sullivan.